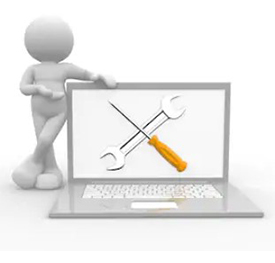 Hardware and Software Repairs
Has your laptop met with a cup of coffee or has physical damage to the screen or casing? Do you have missing keys? Maybe it has stopped charging the battery or has a broken power connector?
Is your PC is continually crashing? Have you lost access to your files or applications or perhaps it won't even boot at all?
Our engineers will diagnose the fault and quote for any parts, if required. We have a wide range of sources for spare parts and will always try to obtain original new parts first but if this is not possible we can sometimes source compatible or refurbished parts in order to get you back up and running. We always aim to return your PC or laptop to the way it was before the fault occurred, not factory default.
We'll also carry out a health check for you and recommend any upgrades or improvements which would benefit your system.
Why don't you offer a home service?
Stripping down laptops and PC's needs to be carried out in an anti-static environment to avoid potential damage to other components. Plus, there are lots of tiny screws and parts which all need to be marked and stored in a way that ensures they get returned to the right places! We have the right facilities at our workshop to ensure we can strip your laptop or PC down in a secure environment, plus we also have facilities to backup or clone the hard drive to minimize the risk of data loss.
We can offer a collection and delivery service if you cannot bring your PC or laptop to us.