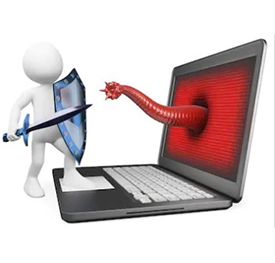 Virus Removal & Security Advice
Viruses and spyware can range from the annoying pop-up to the total corruption of your PC or laptop. It's also possible for unwanted software to be almost undetectable but still be capturing your keystrokes or sending out emails without your knowledge.
The important thing is that when you think you have a virus or spyware on your machine that it is removed quickly before it can jeopardize your system and your identity.
@home IT can detect and remove unwanted programs from your system as well as ensuring that you are kept safe from future attacks by making sure your computer is suitably protected.
If a virus is particularly ingrained in a computer or a PC is infected with many different unwanted programs, it may not be possible to clean it. In this case, we will advise that the computer is wiped and reloaded, ensuring that all the data is cleaned before restoration.
Why don't you offer a home service?
Thorough scans for viruses and unwanted programs can often take several hours so it's not really practical to carry out this service on site.
We can offer a collection and deliver service if you cannot bring your PC or laptop to us.