When choosing a printer for home/home office use, you have a choice of either Laser, Inkjet or LED products. They are all suitable for different purposes, print volume and quality of the print.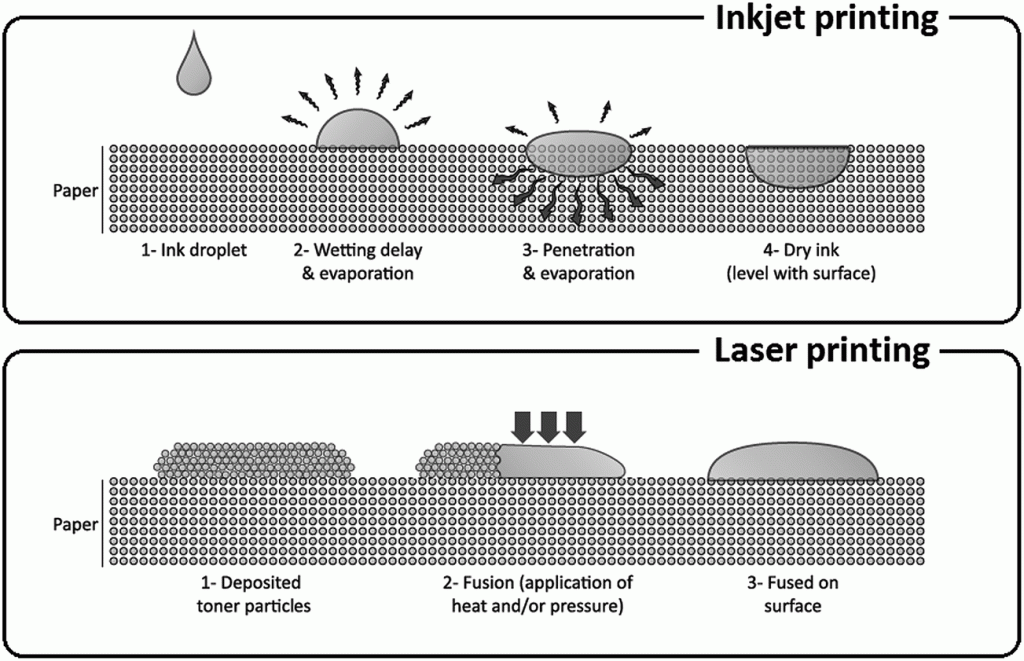 Laser printers use a laser and electrical charge to transfer the text and images via powdered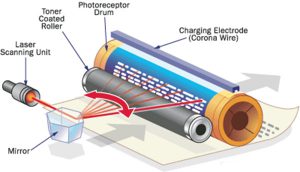 toner on to the paper. Laser printers don't use ink, which allows them to produce images with less risk of smearing and much faster speed of print.  The print quality is also better and colours more vivid for day to day printing. Laser printers and their toners tend to be more expensive than Inkjets, though they last a lot longer than inkjet cartridges, which makes the cost per page less. Laser printers are largely used by businesses but are quite popular amongst home users with large print requirements or those who work from home. Their typical resolution is 600dpi[1] or higher.
Inkjet printers work by propelling droplets of ink on to the page. The complete image or text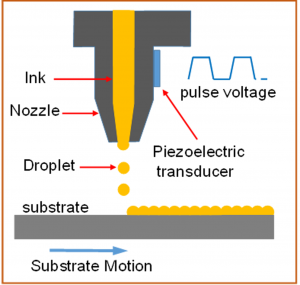 is built up from many small dots, similar to the pixels on a TV. Canon claims to be the Company that invented the original 'bubble jet' technology, which refers to an ink-filled syringe being touched by hot iron and the heat forces a drop of ink out of the needle. They tend to be cheaper to buy, but a lot more expensive to use and maintain compared to laser printers. In addition, if not used regularly the ink can dry up causing print quality issues or even printer failure.
If you are looking for photographic quality printing then the specialist photo inkjet printers, when coupled with correct photo media, will give the best quality.  These often have several different ink cartridges in them beyond the usual black, cyan, yellow and magenta in order to get accurate colours and quality.
LED printers are very similar to laser printers; both use a combination of drums, toners and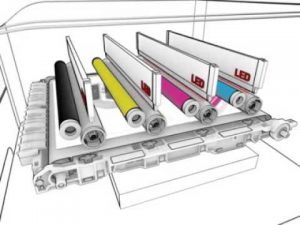 static electricity. The main difference is that a LED printer uses an array of light-emitting diodes to burn letters and images into the drum. A laser printer uses lasers and mirrors. LED printers are proven to be a lot cheaper to manufacture. They are very easy to maintain as they don't contain as many moving parts as other printers. LED printers can print a lot faster, improve productivity and allow usage of different types of paper – e.g. Ultra-Heavy Weight paper, as it has a straight path for paper.
Apart from the printer technology, you will need to consider what you need to use your printer for.  Just printing or would you like scan and copy functionality as well?  If so, then you'll need to look for an All-in-One or MFP (Multi-Function printer).  Consider what you want to print and the size.  Most people will be happy with a maximum of A4 size paper but if you have room then you may have a requirement to print up to A3 size or print smaller, down to photo size.  Additionally, if you want to print photographs do you require borderless printing (where the printer will print right up to the edge of the paper rather than leaving a white border?  This is only available on certain Inkjet printers.
Now you know a little bit about how each of the different printer technologies works, here are some examples of current models.!
Canon i-SENSYS MF633Cdw A4 Colour Multifunction Laser Printer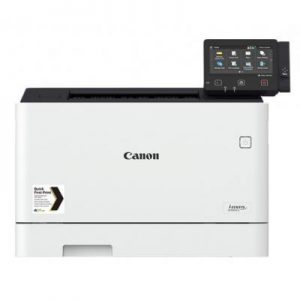 ·         Print/Scan/Copy
·         12 seconds to print the first page
·         Windows & Mac compatible
·         Up to 600×600 dpi copy
·         Automatic double-sided printing
·         USB, network & wireless
·         Up to 1200×1200 dpi print
 £281.70
OKI C332dn A4 Colour LED Laser Printer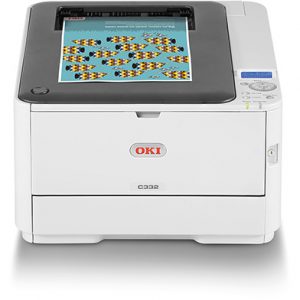 ·         Print
·         8.5 seconds first page
·         Windows & Mac compatible
·         Automatic double-sided printing
·         USB & network, wireless
·         1200 x 600 dpi print
£196.30
Epson WorkForce Pro WF-4720DWF A4 Colour Multifunction Inkjet Printer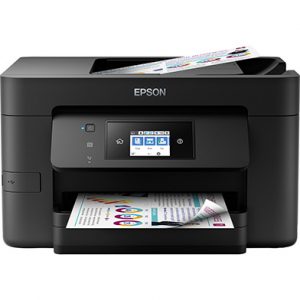 ·         USB, Network & Wireless
·         Automatic double-sided printing
·         4800×1200 dpi print
·         Windows & Mac compatible
·         6.8 LCD Touchscreen 
£140.99